The availability of hospital elevators is an important part of the hospital system. It provides accessibility for patients and workers in the hospital. There are many best practices that you can follow to make sure that your hospital elevator is being used as efficiently as possible. One of these best practices is to make sure that you have enough space for all the people who need it. Another one is to ensure that your elevator has enough capacity so it doesn't become overloaded or break down. As an expert in this industry, Professional Elevators have found the best ways to increase the availability of hospital elevators. We will talk about the benefits and how to manage these elevators. Learn about the Best Practices Towards Maximizing the Availability of Hospital Elevators in this article.
What are the Benefits of Using Hospital Elevators?
Elevators may be used to move patients from one level to another in a hospital or other medical facility. They are typically used to transport patients between wards on the same floor. Elevators can also be used to move patients from the ground floor to different floors.
There are many benefits of using hospital elevators. One of the main benefits is safety for the staff and patient. Another benefit is for long distance transportation of patients. The use of hospital elevators also reduces fatigue for the staff and patient. There are many benefits of using hospital elevators.
Why You Need to Manage the Hospital Elevator Networks in Your Facility?
It is a must-have to manage the hospital lifts in your facility, because they are an important part of your building's infrastructure. Elevators are not just used for transportation, but they can be used as a medical transport device.
In the past few years, there has been an increase in the number of people using elevators for medical purposes. This is due to the fact that it is much easier and faster than walking up stairs or using a stretcher to get from one floor to another. There are different types of hospital lifts that can be installed in buildings for this purpose.
Hospital Bed Elevator: Elevators for hospitals – are reliable and safe, we're here to provide a solid set of features that will perform optimally in the demanding environment of patient transportation.
Design

Specialized Car design to accommodate the equipment, wide-opening doors and deeper car to get inside.
Wheelchair, bed and patient entry and exit: Smooth, precise levelling to make accessing them as easy as possible
Providing immediate availability is our top priority.
This elevator features a clever and quiet operation to minimize disturbance to patients in other wards.
Bed Elevators complied with IS standards to ensure maximum safety and efficiency

Specifications

Machine room-less/ small machine room elevator for hospitals.
Speed: 1.75 m/s
Max. travel: 75 m
Max. load: 1768 kg
Max. persons: Up to 26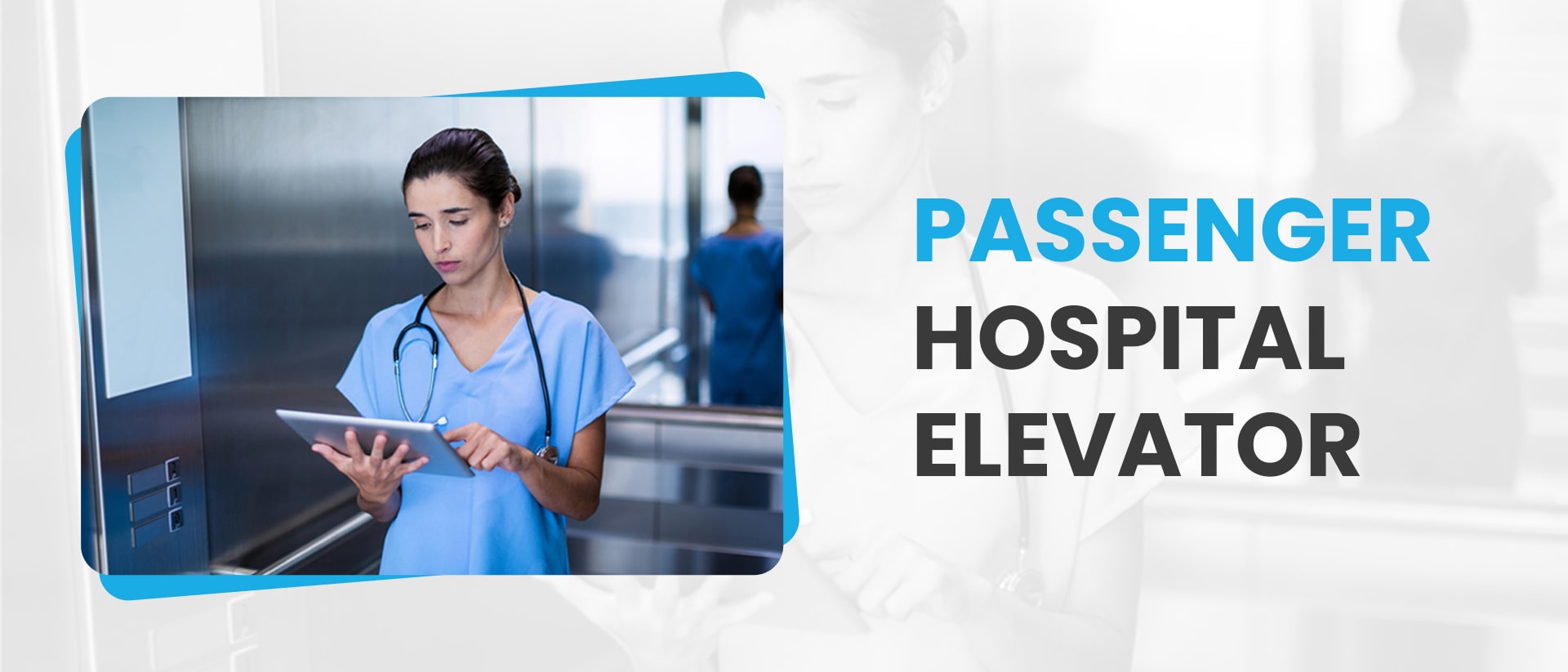 Passenger Hospital Elevator: Automatic elevators made by Professional Elevators are designed in accordance with India Standard 4665:2000 for safety and comfort. We make hospital elevators fast and efficient for patient transport.
Design

VVVF drive-enabled Controllers: VVVF drives, which control the input and output current in the motor, have been shown to reduce jerkiness in elevator travel due to acceleration or deceleration. The resulting ride is smoother and continuous.
VVVF Doors Drives: These drives precisely control how fast and powerful doors open and close. Splitting up door opening and closing times is a great way to smooth traffic flow without compromising safety.
Light Curtain Door Sensor: IR beams are used by door sensors to tell when a person or another object is in the way of the door.

Specifications

Speed:0.35mps, 0.66mps 1mps and 1.25mps
Max. travel:

1.5 m/s

Max. load: 907 to 1,134 kg
Max. persons: 

20 Persons
How to Maximize the Availability of Hospital Elevations?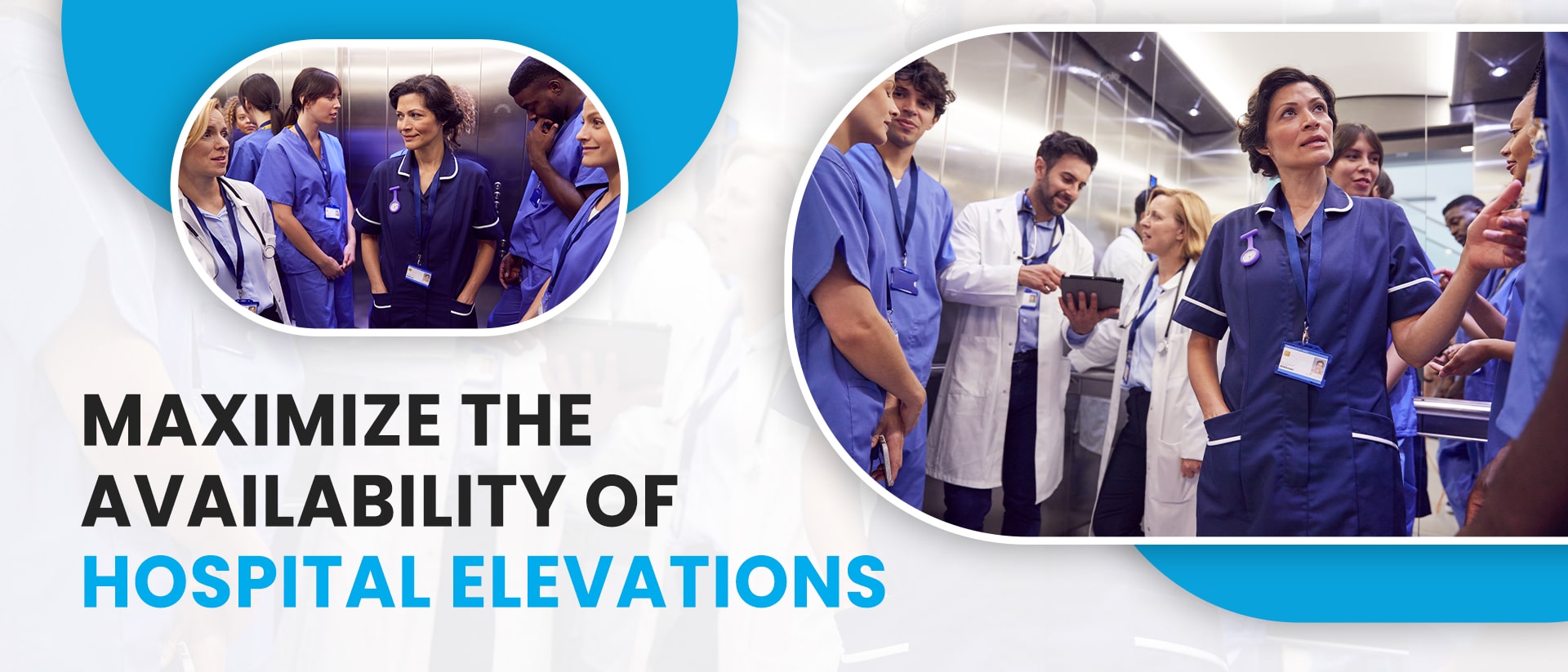 The elevator availability maximize is a service that helps to maximize the availability of elevators in a building. Professional Elevators is one of the best elevator companies in Tamil Nadu because it has a strong understanding of modern technology from different industries. Precision engineering designs and precise application of international standards. Talented, trained, motivated, and experienced professionals stand ready to provide incomparable service to you.
Our team of engineers study the building using technology and special algorithms to predict the best possible elevator installation location. This helps to maximize the availability of elevators in buildings and reduce the number of outages, which can lead to delays and disruptions.
By using this service, facilities are able to manage their elevators more efficiently and effectively which can lead to increased productivity, reduced costs, and improved customer service. With professional Elevators unique and latest technology, not only ensures smooth jerk-less rides and performance is always a plus and you are also getting the best hospital elevator.
Partnering Every Step of the Way with Professional Elevators:
Professional Elevators bed elevators and hospital passenger elevators comes with comprehensive support, partner with more than two decade of experience in designing, manufacturing, installing and maintaining hospital elevators across southern part of India for better flow of people during the life cycle of the building.
Why Choose Us for Your Hospital Elevator?
The elevator is a critical part of the hospital. It is used to transport patients, staff, and visitors. It is also used to transport supplies and equipment. There are many factors that go into choosing the right elevator for your hospital. We offer a wide range of options to choose from depending on your needs, budget, and location. Our team has experience in designing, manufacturing, installing and maintaining elevators in hospitals across the South India. We are the best hospital elevator company in South India.
We offer a wide range of services to keep your elevator running smoothly.
We enjoy awards for our products and services.
With a network in South India that covers the entire region, we are ideally positioned to serve your needs for experts.
You're in good hands with our team of skilled engineers
We offer solutions to make it easy for people and hospitals to move around in both new and old buildings. We also provide solutions for things like elevator modernization, as well as any existing building that doesn't have an elevator. We work hard to be the leader of innovation in our industry by taking risks in the pursuit of new ideas. We believe we are the right choice of elevator for your hospital needs. We will conclude by saying that these are the best practices towards maximizing the availability of hospital elevators for your hospital.